The World Health Organization (WHO) is an agency of the United Nations that is concerned with world public health.
Early in the outbreak, it issued a memo concerning the treatment of the recently deceased. This implies that the outbreak, while not well known by the general pub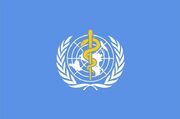 lic, was considered serious enough to be discussed at an international level. As seen from the image, the memo was six pages long. The directives can been seen in action at 
Temple Community Hospital
. Some of the directives to medical staff include:
In an instance where a person has a Do Not Resuscitate form (DNR), the DNR form is to be ignored. It is in the best interest of the staff of the facility to keep the patient alive
If, within a minute of death, all efforts to revive the patient fails, live saving techniques are to stop and the patients is to be considered dead. The body is to be moved to the morgue. If the morgue is more than fifteen minutes away, the body is to be restrained.
If the deceased regains signs of life AFTER life saving techniques have failed, the body is to be treated as a biological hazard.
Community content is available under
CC-BY-SA
unless otherwise noted.