Willa Geary is a character in AMC's Fear The Walking Dead. She appears in the episode We All Fall Down, and is portrayed by Aria Lyric Leabu.
Biography
Edit
Willa is first seen playing on a beach with her brother
Harry Geary
as an infected staggers from the sea. It is revealed that there is a fence across the beach protecting the children.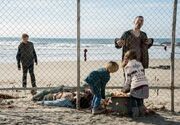 She is later seen as members of the group off the Abigail are invited into her home. She is then later seen playing with Nick Clarke and Harry. She follows Nick as he hunts for drugs in her fathers study and sees where her father had stored the poison tablets her brother had indirectly mentioned earlier. Later, she goes back to her fathers study and takes the tablets from their hiding place and takes one, believing her fathers story that they were special vitamin tablets, killing herself. She later reanimates and bites her mother.
Willa killed herself after she took a lethal drug by accident.
She is the first child seen as an infected in Fear the Walking Dead
She may or may not have been put down by a member of her family.
Appearances
Edit
Season 2 appearances
Monster
We All Fall Down
Ouroboros
Blood in the Streets
Captive
Sicut Cervus
Shiva
Grotesque
Los Muertos
Do Not Disturb
Pablo & Jessica
Pillar of Salt
Date of Death
Wrath
North
References
Edit
Community content is available under
CC-BY-SA
unless otherwise noted.