Vazquez is a character who appeared in the Season 2a episode Sicut Cervus.
​Pre-Apocalypse
Edit
Very little is known about Vazquez, except that he was an officer with the rank of Commandante[1] in the Mexican Navy, serving alongside Miguel.
Post-Apocalypse
Edit
Vazquez is among the Mexican Navy stationed in Baja California, patrolling the coast. He boards the Abigail alongside Miguel. They negotiate a trade with Luis Flores and Victor Strand. After seeing that the boat is too big for just two people, he demands to see the rest of the boat. After a disagreement, he and Vazquez shoot at Luis and Strand. While both officers are killed, one of them manage to mortally wound Luis.
It should be noted that the rank of Commandante does not exist in the Mexican Navy. It is possible that the producers meant Vazquez to hold the rank of Commander, which in the Mexican Navy is Capitán de Fragata (Frigate Captain).
The nearest English equivalent of Vazquez's possible rank would be Commandant. This is a title rather than a rank, and it is granted to those in charge of a military training establishment or academy.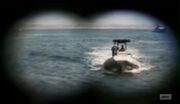 References
Edit
Community content is available under
CC-BY-SA
unless otherwise noted.