Ok - so it's starting to feel as if it's actually going to happen. We have a date, August 23rd, a promise that it will go out internationally all on the same date and.... We have a proper trailer, an actual real, you can blink in the middle of it and not miss the whole thing honestly - trailer...
So, Season 1 starts on the 23rd August and there will be a Talking Dead, but only after the last episode of the season this time round
The trailer then - Yes it's out - and yes it's gorgeous and yes i
t's 3 minutes long - that's minutes, not seconds. It does have some now familiar scenes and characters but we get a
lot
more information, guns, soldiers, police, zombies (can't call them walkers in FEAR remember, not that I have any idea what we
can
call them yet) so for the moment it's zombies getting stabbed, shot, and mostly just keeping on shuffling. Oh, and what looks like a full blown riot complete with the hungry undead to spice things up a touch.
It starts out fairly gently, heck, for something from Robert Kirkman with the words "Walking Dead" in the title it's positively civilised. So we see the Bennett family at home and see Travis persuading his son (Chris) that a new family is just what he needs. (Chris, who looks as if he's at his mom's house, isn't convinced by the way) And we also get to see Madison and Travis at work, all very nice.
Enter
Nick
though, waking up after a party to find someone being eaten and our first look at
Gloria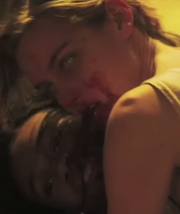 which leads, understandably enough, into the sequence from Nick's Escape - plus a car crash. And just before the car crash when Nick was in the middle of the road, did you see that figure run past Nick?
You can't get a clear look at them in the trailer, I wonder if that's significant?
From after the hospital scene though, things really go down hill. Surreally though, to a TWD fan, with zombies and general mahem good stuff all around, their mobile phones still work.
This was the first time I've followed a Comic Con via social media - what an experience, wish I'd been there. I'm also glad though, that I didn't have to queue overnight (overnight people!!) to get into Hall H for the panels. I might have had to stay up late because of the time difference but I did get to go to bed...
Have a look at the new trailer and around the site, our Kovarro has been beavering away with pictures and backgrounds for every cast member he can find info on so there's lot's to read. Let us know what you think. I think you're going to love it. I have a feeling we're going to love the whole thing.
Community content is available under
CC-BY-SA
unless otherwise noted.