A location in Fear the Walking Sead, Strand's home is a well appointed and expensive house owned by Victor Strand. It has an emergency electricity generator that cuts in automatically when the main power fails.
The house is located on some cliffs, overlooking the ocean.
Strand directs the group here after they escape from the military compound. This where Strand reveals the excistence of The Abigail and where Liza reveals her bite and where Travis shoots her out of mercy.
Strand's house can be seen briefly during the begining of season 2 in the episode Monster. As the group evacuate to the Abigail and as the military bombed the city behind them, Strand's house can be seen burning behind them.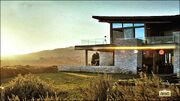 The Strand Home, is located:
" This is 3 Yacht Harbor Drive, in Rancho Palos Verdes, CA. (located just west of the 4200 block of Palos Verdes Drive S.)
Rancho Palos Verdes is one of three wealthy communities in the Palos Verdes hills (the other two cities being Palos Verdes Estates and Rolling Hills), which are located on a peninsula in the South Bay region, at the southwest corner of Greater Los Angeles.
The high elevation of those Palos Verdes hills offers spectacular views of the Pacific and some equally spectacular homes have been built on those cliffs.
These Palos Verdes hills lie to the south of Redondo Beach and Torrance, and to the west of San Pedro and the L.A. Harbor." [1]
Sunken City[]
Also, Strand claims he heard a gunshot, from an area known as "Sunken City", a district within the port city of San Pedro, it is not accurate because it is located five miles away from the beach house [2].
Other interesting fact about "Sunken City":
"It definitely has a post-apocalyptic look to it, but it is actually the result of a 1929 landslide which collapsed the hillside and sent part of the street and several San Pedro homes toppling down the cliffside to a ridge just above the beach below, resulting in piles of broken concrete slabs, twisted cable car tracks, and other debris that vandals have since covered in colorful graffiti." [3].
"San Pedro is a mostly working-class community which lies southwest of Palos Verdes and west of the L.A. Harbor." [4].
References[]