"
I love you all, but enough's enough.
"
 

— Stephen Clark, in his suicide note.
"
Daddy was always The Shoe.
"
 
Stephen Clark is Madison Clark's late husband[1]; he died in an auto wreck (a head on car crash) before the events described in "Pilot".
The Dave Erickson interview referenced above suggests that Stephen Clark's death was about 6 years before the events described in "Pilot". However, in the Season 2 episode "Grotesque" we are shown Nick being told about his father's death by Madison when she visits him in a rehab center. The age of the two characters and the fact that Gloria was also in that rehab center at the same time seems to put the date of Stephen's death much closer to the events in "Pilot" (but still long enough before for Madison to have 'moved on').
Biography
Edit
Background
Edit
Not much is known about the life of Stephen Clark. Judging by comments made by his widow Madison to Strand he was a man who had a "darkness inside," as she can see that same darkness in Nick.
He died in an auto wreck[2].
From the Dave Erickson interview - Stephen died about 6 years before the events depicted in "Pilot", Pilot is set in mid to late 2010 so this puts his death at about 2004. However, this seems to be contradicted by the flashbacks in "Grotesque" which put his death as late as 2010.
The Clarks play Monopoly as a family, Stephen used to play as "The Shoe"[3]
In the Clark house, there are writings on the wall saying that he appeared to be 5'8" tall.
Alicia implied, in "The Dog" that waiting for Travis to get back reminded her, uncomfortably, of waiting for her father on the occasion when he didn't get back. This could imply that the auto wreck happened to him while his family was expecting him home.
In the episode "Date of Death, Madison tells Alicia, that despite what she'd said before, that Stephen had committed suicide. She also reveals that the note read just. "I love you all, but enough's enough."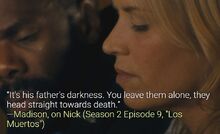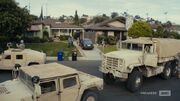 References
Edit
Community content is available under
CC-BY-SA
unless otherwise noted.