Tags:

apiedit

,

Visual edit

 

(10 intermediate revisions by 4 users not shown)
Line 5:
Line 5:
 

|channels = [[AMC]] <small>''(United States)''</small><br>AMC Global <small>''(International)''</small><br>AMC Global (via BT TV) <small>''(United Kingdom)''</small>

 

|channels = [[AMC]] <small>''(United States)''</small><br>AMC Global <small>''(International)''</small><br>AMC Global (via BT TV) <small>''(United Kingdom)''</small>

 

|episodes =

 

|episodes =

−

# "[[2x08|Mid Season Premiere]]"

+

# "[[]]"

 
+

# "[[Los Muertos]]"

⚫
 
 
+

# "[[Do Not Disturb]]"

 
+

# "[[Pablo & Jessica]]"

 
+

#" [[Pillar of Salt]] "

 
+

#" [[Date of Death]] "

 
+

#" [[Wrath]] "

 
+

#" [[North]] "

 
⚫
 

|succeeded_by = [[Season 3]]

 

|succeeded_by = [[Season 3]]

 

|showrunner = [[Dave Erickson]]

 

|showrunner = [[Dave Erickson]]

−

|original_run = August 21, 2016 to TBA 2016

+

|original_run = August 21, 2016 to 2016

 

}}

 

}}

−

The second half of '''Season 2 '''of ''[[Fear the Walking Dead]]'' premieres on August 21, 2016.

+

''[[Fear the Walking Dead]]'' .

 
 
−

There will be 8 episodes in the [[Season 2b]] which started filming in mid 2016. Season 2 was filmed in [[Mexico]], at [http://www.bajafilmstudios.com/ Baja Studios], which is home of the "World's Largest Stages and Filming Tanks", and it's where they shot [[Wikipedia:Titanic (1997 film)|''Titanic'']], just so you know.

+

There will be 8 episodes in the [[Season 2b]] which started filming in mid 2016. Season 2 was filmed in [[Mexico]], at [http://www.bajafilmstudios.com/ Baja Studios], which is home of the "World's Largest Stages and Filming Tanks", and it's where they shot [[Wikipedia:Titanic (1997 film)|''Titanic'']], just so you know.

 
 
 
+

{{Quote

⚫

In the same way that the main location for [[Season 1]] was the [[El Sereno]] district of [[Los Angeles]], the main location for [[Season 2]]a is [[the Abigail]]. Following the split of the main group in the [[Season 2a]] finale

it remains to be seen what

the main

location

for 2b

will be, if there is one

.

 
 
+

|On the second half of the second season of "Fear the Walking Dead," the Clark/Manawa, Salazar and Strand families fracture. The events that took place at the Abigail compound have set all of our heroes adrift. Now, they must forge their own paths to survive. Alicia struggles with Madison's refusal to let Nick go, while Travis tries to protect Chris from the apocalyptic darkness that threatens to consume him. Strand is lost in grief, and the power of Daniel's dark past leaves Ofelia disillusioned about their survival and ability to rebuild new lives.

 
+

|AMC Press Release

 
+

}}

 
+
 
⚫
 
 
 

==Episodes==

 

==Episodes==

Line 21:
Line 33:
 

! # !! Image !! Title !! Airdate !! Viewers/Rating

 

! # !! Image !! Title !! Airdate !! Viewers/Rating

 

|-

 

|-

−

| rowspan="2" | 08 || rowspan="2" |[[File:2x08.JPG|thumb|center]]|| "Mid Season Premiere" || '''21 Aug 2016'''||

+

| rowspan="2" | 08 || rowspan="2" |[[File:.|thumb|center]]|| "" || '''21 Aug 2016'''||

 

|-

 

|-

 
+

| colspan="3" |<small>Nick's steadfast search for answers leads him into a deadly dog-eat-dog landscape. A dark piece of his past is uncovered<ref>http://www.inquisitr.com/3409560/fear-the-walking-dead-season-2-return-romance-is-on-the-cards-for-nick-but-wait-a-minute-is-that-gloria/#QuKUylfhQ3F69r17.99</ref></small>

−

| colspan="3" |<small>As Fear The Walking Dead embarks on the second half of season two, the Clark, Manawa and Salazar families fracture. The events that took place at the Abigail compound have set all of our heroes adrift. Now they must forge their own paths to survive.</small>

 
 

|-

 

|-

−

| rowspan="2" | 09 || rowspan="2" |[[File:FEAR S2 Key Art.jpeg|thumb|center]]|| "2x09" || 21 Aug '''2016'''||

+

| rowspan="2" | 09 || rowspan="2" |[[File: .|thumb|center]]|| "" || Aug '''2016'''||

 

|-

 

|-

 
+

| colspan="3" |<small>Madison, Strand and others move forward after the compound falls; Nick gets picked for a dangerous assignment.<ref name=zap2it>http://tvlistings.zap2it.com/tv/fear-the-walking-dead-los-muertos/EP022099820016?aid=zap2it</ref></small>

−

| colspan="3" |

 
 

|-

 

|-

−

| rowspan="2" | 10 || rowspan="2" |[[File:FEAR S2 Key Art.jpeg|thumb|center]]|| "2x10" || 28 Aug '''2016'''||

+

| rowspan="2" | 10 || rowspan="2" |[[File: .|thumb|center]]|| "" || '''2016'''||

 

|-

 

|-

 
+

| colspan="3" |<small>Travis has a hard time connecting with Chris while looking for shelter; Alicia meets a woman with a bloody past.<ref name=zap2it/></small>

−

| colspan="3" |

 
 

|-

 

|-

−

| rowspan="2" | 11 || rowspan="2" |[[File:FEAR S2 Key Art.jpeg|thumb|center]]|| "2x11" || 4 Sep '''2016'''||

+

| rowspan="2" | 11 || rowspan="2" |[[File: .|thumb|center]]|| "" || Sep '''2016'''||

 

|-

 

|-

 
+

| colspan="3" |<small>Alicia and Madison try to bring two competing factions together; Nick uses skills from his past for his new role.<ref name=zap2it/></small>

−

| colspan="3" |

 
 

|-

 

|-

−

| rowspan="2" | 12 || rowspan="2" |[[File:FEAR S2 Key Art.jpeg|thumb|center]]|| "2x12" || 11 Sep '''2016'''||

+

| rowspan="2" | 12 || rowspan="2" |[[File: .|thumb|center]]|| "" || Sep '''2016'''||

 

|-

 

|-

 
+

| colspan="3" |<small>At the Colonia, Alejandro reveals his darker side. At the hotel a resident becomes violent and Madison has to lay down the law.<ref name=zap2it/></small>

−

| colspan="3" |

 
 

|-

 

|-

−

| rowspan="2" | 13 || rowspan="2" |[[File:FEAR S2 Key Art.jpeg|thumb|center]]|| "2x13" || 18 Sep '''2016'''||

+

| rowspan="2" | 13 || rowspan="2" |[[File: .|thumb|center]]|| "" || Sep '''2016'''||

 

|-

 

|-

 
+

| colspan="3" |<small>Madison struggles to cope as a large number of refugees flood into the hotel, including someone familiar but unexpected.<ref name=zap2it/></small>

−

| colspan="3" |

 
 

|-

 

|-

−

| rowspan="2" | 14 || rowspan="2" |[[File:FEAR S2 Key Art.jpeg|thumb|center]]|| "2x14" || 25 Sep '''2016'''||

+

| rowspan="2" | 14 || rowspan="2" |[[File:.|thumb|center]]|| "" || '''2016'''||

 

|-

 

|-

 
+

| colspan="3" |<small>Madison struggles with Travis' return. New refugees throw Travis off course; Nick must decide if he should stay at the Colonia with Luciana or leave.<ref name=zap2it/></small>

−

| colspan="3" |

 
 

|-

 

|-

−

| rowspan="2" | 15 || rowspan="2" |[[File:FEAR S2 Key Art.jpeg|thumb|center]]|| "2x15" || 2 Oct '''2016'''||

+

| rowspan="2" | 15 || rowspan="2" |[[File:.|thumb|center]]|| "" || 2 Oct '''2016'''||

 

|-

 

|-

 
+

| colspan="3" |<small>Travis' actions cause turmoil at the Rosarito Beach Hotel. When Travis' rage causes unrest at the hotel, Madison has to choose whether or not she will stand by him; Nick becomes leader of the Colonia as Narcos close in.<ref name=zap2it/></small>

−

| colspan="3" |

 
 

|}

 

|}

 
 
Line 90:
Line 102:
 

Hotelthree.jpg

 

Hotelthree.jpg

 

Hotelfour.jpg

 

Hotelfour.jpg

 
+

FEAR-post-211-1920x1080.jpg

 
+

FTWD2 211 RF 0505 0313-RT.jpg

 
+

FTWD2 211 RF 0505 0134-RT.jpg

 
+

FTWD2 211 RF 0504 1193-RT.jpg

 
+

FTWD2 211 RF 0504 1144-RT.jpg

 
+

FTWD2 211 RF 0429 1184-RT.jpg

 
+

FTWD2 211 RF 0429 1052-RT.jpg

 

</gallery>

 

</gallery>

 
 
Line 105:
Line 124:
 
 
 

A more complete account of this interview can be found [[Season 2a#Season 2 plot|here]]

 

A more complete account of this interview can be found [[Season 2a#Season 2 plot|here]]

 
+
 
+

== Trivia ==

 
+

[[File:Fear-the-walking-dead-season-2b-key-art-poster-1200.jpg|thumb]]

 
+

* The [[Season 2b]] poster was inspired by Hex Publishers<ref>https://twitter.com/FearTWD/status/809167005291057153</ref><ref>http://hexpublishers.com/publications_nightmares-unhinged.html</ref>

 
+
 
 
 

==References==

 

==References==
---
Latest revision as of 15:27, 31 July 2019
Fear the Walking Dead has been confirmed for the second half of Season 2.
There will be 8 episodes in the Season 2b which started filming in mid 2016. Season 2 was filmed in Mexico, on location and at Baja Studios, which is home of the "World's Largest Stages and Filming Tanks", and it's where they shot Titanic, just so you know.
"
On the second half of the second season of "Fear the Walking Dead," the Clark/Manawa, Salazar and Strand families fracture. The events that took place at the Abigail compound have set all of our heroes adrift. Now, they must forge their own paths to survive. Alicia struggles with Madison's refusal to let Nick go, while Travis tries to protect Chris from the apocalyptic darkness that threatens to consume him. Strand is lost in grief, and the power of Daniel's dark past leaves Ofelia disillusioned about their survival and ability to rebuild new lives.
"
 

— AMC Press Release
In the same way that the main location for Season 1 was the El Sereno district of Los Angeles, the main location for Season 2a is the Abigail. Following the split of the main group in the Season 2a finale "Shiva", the main locations for 2b are the Rosarito Beach Hotel and La Colonia.
Episodes
[
]
#
Image
Title
Airdate
Viewers/Rating
08
"Grotesque"
21 Aug 2016
Nick's steadfast search for answers leads him into a deadly dog-eat-dog landscape. A dark piece of his past is uncovered[1]
09
"Los Muertos"
28 Aug 2016
Madison, Strand and others move forward after the compound falls; Nick gets picked for a dangerous assignment.[2]
10
"Do Not Disturb"
4 Sep 2016
Travis has a hard time connecting with Chris while looking for shelter; Alicia meets a woman with a bloody past.[2]
11
"Pablo & Jessica"
11 Sep 2016
Alicia and Madison try to bring two competing factions together; Nick uses skills from his past for his new role.[2]
12
"Pillar of Salt"
18 Sep 2016
At the Colonia, Alejandro reveals his darker side. At the hotel a resident becomes violent and Madison has to lay down the law.[2]
13
"Date of Death"
25 Sep 2016
Madison struggles to cope as a large number of refugees flood into the hotel, including someone familiar but unexpected.[2]
14
"Wrath"
2 Oct 2016
Madison struggles with Travis' return. New refugees throw Travis off course; Nick must decide if he should stay at the Colonia with Luciana or leave.[2]
15
"North"
2 Oct 2016
Travis' actions cause turmoil at the Rosarito Beach Hotel. When Travis' rage causes unrest at the hotel, Madison has to choose whether or not she will stand by him; Nick becomes leader of the Colonia as Narcos close in.[2]
Cast Changes
[
]
Trailers, Sneak Peeks, and Photos
[
]
Music
[
]
The music used in the Season 2b trailer is:
I'm Not Like Everybody Else by The Chocolate Watchband
Season 2 Plot
[
]
We know that there's going to be a mix of storylines between land and at sea on Strand's Yacht, the "Abigail".
"
"There will be quite a bit of action on the seas -- and we'll split it between land and water. But it's going to be an interesting dynamic."
"
 
A more complete account of this interview can be found here
Trivia
[
]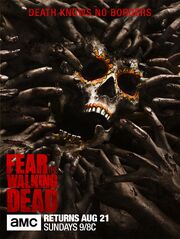 References
[
]