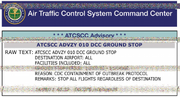 San Francisco is a city in California mentioned as a possible diversion destination for Flight 462 due to the power failures in Phoenix, Arizona. However, according to a flight attendant (Deirdre), the San Francisco airport was not responding to distress calls. Also, by then the FAA had issued a warning to close down all airports on advice from the CDC. It is also possible that, due to the rapid spread of the infection, San Francisco was no longer able to receive flights due to being overrun, regardless of the restrictions imposed by the FAA and CDC.
It is highly possible that San Francisco was bombed by the military, like most major cities on the east coast. However, San Francisco was not among the cities listed by George Geary as actually having being bombed.
San Francisco is Spanish for Saint Francis.
San Francisco is part of the San Francisco Bay Area, which includes the cities of San Jose, Oakland, Fremont, Santa Rosa, Hayward, Richmond, Sunnyvale, Concord, Santa Clara, Vallejo, Benicia, Berkeley, San Mateo, and Fairfield.
In other zombie fiction, the city is the ground zero for the Global T-Virus Pandemic in the novelization of Resident Evil: Extinction by Keith R.A. DeCandido.
It is also the ground zero for the ALZ-113 infection as seen in Rise of the Planet of the Apes.
Community content is available under
CC-BY-SA
unless otherwise noted.