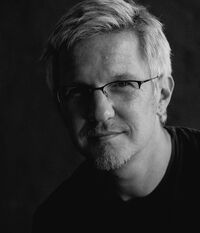 Paul Haslinger is a composer working in film and TV in the US. He composed the original music for Season 1 of Fear.
He has worked on a range of work including The Sleeper Cell and the historic action movie The Three Musketeers to the Sci-Fi Thriller Underworld: Awakening.
Haslinger was born in Austria where he studied at the Academy of Music and the University of Vienna. In 1985, he joined German band Tangerine Dream. With them he worked on a projects such as Underwater Sunlight, and the soundtracks Near Dark (dir. Kathryn Bigelow) and Miracle Mile (dir. Steve DeJarnett). In 1990, the band received a Grammy nomination for their soundtrack to the documentary Canyon Dreams.
In 1991 Paul moved to Hollywood to focus on his solo career and film composing. His work includes scores for film, television and video games. He wrote the music for Underworld (1,3, & 4), HBO's Cheaters, Blue Crush, The Girl Next Door, Crank, Death Race and video games such as X-Men Origins: Wolverine and Need for Speed: Undercover. Recently he wrote the music for the National Geographic/IMAX 3-D project, Mysteries of the Unseen World, narrated by Forest Whitaker, and the AMC television show Halt and Catch Fire.
Community content is available under
CC-BY-SA
unless otherwise noted.