"
Susan, I'm home. The airport's shut down. I drove all the way from Salt Lake.
"
 
Patrick Tran was the neighbor of the Clarks in Fear The Walking Dead. He appears in "The Dog" and is portrayed by Jim Lau.
Biography
Edit
Background
Edit
Patrick lived next to the Clarks with his wife Susan for several years. He is described as being a faithful, loving husband to his wife.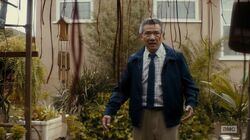 Patrick Tran was at the airport when it shut down due to the spreading infection and found his way home. He arrives home and finds Susan Tran, unaware that his wife had become infected. Madison Clark, his neighbor attempts to go after Patrick to warn him of Susan's fate. Patrick enters his backyard garden, finding his infected wife. Madison tries to reason with him, however Patrick is in shock and confusion. He approaches his wife and opens his arms to hug her, and before being bitten she is suddenly shot in the head by the National Guard. As Patrick was covered in her blood, he was taken away in quarantine.
Appearances
Edit
Season 1 appearances
Pilot
So Close, Yet So Far
The Dog
Not Fade Away
Cobalt
The Good Man
Community content is available under
CC-BY-SA
unless otherwise noted.