"
That boy was born lost, like his Daddy. He's been slipping through my fingers ever since the day I gave birth to him.
"
 
los muertos

Nicholas Clark was a major character in the first, second, third, and fourth seasons. He was portrayed by Frank Dillane.
Nick was a 19-year old former drug addict. Before The Fall, his mother, Madison, sent him to rehab several times, but Nick had reached a point where no one could tell him what to do or force him into recovery — he would have to do that all by himself. Nick wanted to prove he can rebuild his life – and, ironically, the apocalypse may have provided him with that opportunity. [3]
BiographyEdit
BackgroundEdit
"
Madison's screwed up teenage son. He's too old to stay home, too scared to flee...pretty much a parent's worst nightmare. He has flunked out of college, had a lot of trouble, got mixed up in some bad elements, and is definitely the problem child. And it's exacerbated for him to be next to this perfect sister who seemingly doesn't have anything going on in her life that is negative.
"
 
Nick is a heroin addict and, after losing his father when he was 12 or 13 (depending on which interview you listen to) is not coping with life. He was expelled from Citrus Community College sometime prior to the events in
Season 1
and has been through "Rehab" several times. By the time we first see him in
Season 1
, his family are about to back away from trying to care for him. His sister,
Alicia
, is at that point already.
RelationshipsEdit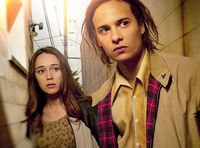 Nick and his sister Alicia have an obviously close relationship that's strained because of Nick's addiction to heroin and because of his lifestyle. In contrast to him, Alicia is trying to achieve things and get to college, Nick sees her as a reminder of everything he can't be. For her part; at the beginning of Season 1 while she obviously cares for him, Alicia does not see what can be done to help Nick, and thinks that her mother (Madison) will not succeed in her attempts to help him now that he is an adult. She sticks by him though, when the soldiers come for him for instance. ("Not Fade Away") in season 3 they become close again.
Nick is Madison's eldest child and because of the problems he has, she feels the need to protect him. It's evident from the "Pilot" that although they are close, Nick would rather confide in her partner Travis. It can be assumed this is because Nick sees Madison as overbearing and judgemental, as she's the only one who pushes him to change. Her outburst and loss of control with him during "Not Fade Away" seems to be an isolated incident, so far.
Nick appears to resent and mistrust Travis, refusing him as a step-father figure. However, Travis tries to help Nick throughout, readily taking responsibility for him. This is prominent most in the "Pilot" when Travis stays with him at the hospital, investigates the abandoned church and then arrives to help him after Nick calls upon killing Calvin.
Before Nick's death, he and Luciana were dating. On the search for her missing brother, Luciana meets Nick and takes him back to La Colonia, so that he can rest and heal from his injury (being bitten by wild dogs in "Grotesque"). Although they disagreed on things and even got into heated arguments throughout late Season 2, they still appeared to harbour feelings for each other. It's in "Pablo & Jessica", that Luciana first kisses Nick and their romantic relationship starts. When a threat looms over La Colonia, Nick begs her to leave with him and outs Alejandro's secret to try and convince her. He is protective, caring and honest towards her which plays into his development as a person.
Strand is known to be well-spoken, wealthy and does whatever means necessary to survive. He first meets Nick in "Cobalt" and "The Good Man" is when they form an alliance. In Season 1 and Season 2, Strand explains that Nick's addiction is the reason he's useful. On The Abigail especially, Nick serves as Strand's risk-taking errand boy as a means of paying him back for saving him and his family.
During the first half of Season 2, Nick and Ofelia are seen to talk more and develop a friendship. Nick shows concern for Ofelia's injury (shot in the shoulder in the Season 1 episode "The Good Man") and offers support and advice. Ofelia is sometimes physically to to Nick, touching his arm just before they sit down to eat on The Abigail and when she goes to the shrine, in the episode "Sicut Cervus", to pray to her mother it's Nick she takes with her.
Gloria was Nick's girlfriend before her death[2] and was expecting to see her near him when he awoke at the beginning of "Pilot". He is very shocked to see her eating a dead body when he finds her - but he does not appear to grieve for her either then or later on in the way you might expect if he and Gloria had been close friends or boyfriend and girlfriend. However... Frank Dillane, who plays Nick has said in interview that "A lot of the stuff that drives Nick and makes him so troubled is his father dying and his girlfriend turning. He doesn't really have much to live for."
Calvin is Nick's drug dealer and former friend that we meet in the "Pilot". Convinced he's going insane after his apocalyptic experience in the church, Nick meets with Calvin. Nick appears to be intimidated by Calvin, abandoning his manipulative and cocky persona we see in the hospital. Paranoid by Nick's behaviour, Calvin attempts to kill Nick using a gun. Calvin meets his demise by his own gun and returns as a walker.
Liza was well aware of Nick's addiction even before the apocalypse, expressing concern for him in the "Pilot". In "The Dog", Liza knowingly looks to Nick after hearing there are no pills available. In "Not Fade Away", Nick openly calls Liza a 'narc' after she confesses to Dr.Exner about Nick's addiction. It's because of this, that Nick is forcefully taken by the soldiers, to which Madison blames Liza.
Their main relation is that Madison and Travis are together. In the "Pilot" episode, Chris claims that Nick isn't his brother, nor does he want to visit him in hospital. Despite this, they don't appear to hate each other. Like in "Monster", after hearing Chris jump into the sea, Nick immediately dives in after him. In "Captive", when Reed is taunting Chris, Nick closes the door on him and attempts to reassure Chris about his guilt. In "Eye of the Beholder", Nick is stunned by the news of Chris' death.
AppearancesEdit
ReferencesEdit