Maria Thompson is a character in AMC's Fear the Walking Dead. She is portrayed by Alison Araya.
Biography
[
]
Background
[
]
Maria Thompson lives in El Sereno with her husband and two daughters.
Maria Thompson requests Travis Manawa to come to her household and speak with a frightened and scared Doug. After arriving, Maria speaks with Travis on the situation regarding her husband, who has shut himself in the master bathroom and hasn't come out since last nights dinner. After being spoken to by Travis, Doug is calmed down by Travis and is attended to by medical personnel as a part of mandatory screening from the National Guard.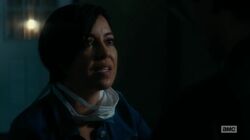 Later that night, Maria and her daughters show up after curfew at the Clark household. She reveals that Doug had taken his car after curfew, which is against the National Guards rules, and has driven off with his car. Doug's car is found abandoned by the perimeter by Travis the following morning, and Lieutenant Moyers reveals that Doug was found by the soldiers, crying in his car and then he was taken into custody, due to Moyers believing he is a "nutcase".
While Doug is in the medical facility, Doug meets a man named Victor Strand. Strand decides to taunt Doug. While Doug is holding a picture of his wife, Maria, Stand says "With a body like that, it's just the ticket to help her latch onto the type of man that's going to help her through all this." Strand is relentless in his humiliation of Doug Thompson who breaks down and cries, attracting the attention of the guards who take him away.
 Relationships
[
]
TBA
Appearances
[
]
Image Gallery
[
]
[

]
References
[
]