Kimberly (credited as "Infected Woman") is a character in AMC's Fear The Walking Dead. She appears in the episode "Cobalt", and is portrayed by Tammy Nera.
Biography
[
]
Background
[
]
Kimberly worked as a waitress at California Donuts. During the outbreak of the infection, Kimberly sheltered in the donut shop, and was bitten on the arm and became infected within the nine days that the National Guard set up a safe zone.
While Travis, Moyers, Castro and two other soldiers are traveling to the medical facility, Moyers notices an infected within California Donuts.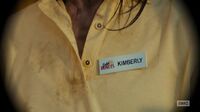 They pull over, and prepare to add the infected as number 84 to the National Guards kill list. The soldiers and Travis prepare to put down Kimberly who is roaming around in the shop by mounting the rifle on the vehicle.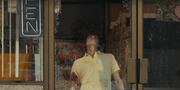 Moyers orders Travis Manawa to shoot her, to which he gives it a go, however is unable to once seeing that Kimberly was once a living being. Moyer responds by shooting Kimberly himself.
Appearances
[
]
Season 1 appearances
Pilot
So Close, Yet So Far
The Dog
Not Fade Away
Cobalt
The Good Man
Image gallery
[
]
[

]
References
[
]