George Geary is a character in AMC's Fear The Walking Dead. He first appears in the episode We All Fall Down, and is portrayed by David Warshofsky.
Pre-Apocalypse
Edit
Not much is known about George's life prior to the outbreak. During his youth, George studied Māori culture where at one point he went on an exchange and journyed to New Zealand. In his later years George became a Park Ranger located near the wildlife refuge center, he married and had children. He and his family lived on Catrina Island for several years.
Post-Apocalypse
Edit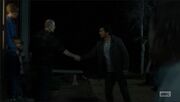 It is unknown what George and his family were doing as the outbreak began. George and his family were still at their home when the Abigail docked at their pier. He and his eldest son, Seth, maintain fences to keep the walkers at bay. He was a wealth of knowledge on what is happening to the outside world. He informed Travis that
Mexico
had sealed it's border with the United States, and that there are infections in several U.S. states as well as outbreaks reported in Vancouver, Canada.
George is indirectly responsible for the death of his daughter and wife. He had hidden poison pills in his office so that his family could commit suicide should they be overrun. His daughter found them, swallowed on and died, only to reanimate and bite her mother. It is unknown what happened to George after this.
Appearances
Edit
Season 2 appearances
Monster
We All Fall Down
Ouroboros
Blood in the Streets
Captive
Sicut Cervus
Shiva
Grotesque
Los Muertos
Do Not Disturb
Pablo & Jessica
Pillar of Salt
Date of Death
Wrath
North
References
Edit
Community content is available under
CC-BY-SA
unless otherwise noted.