The U.S. Coast Guard is a branch of the
U.S. Military
. During peacetime, it is under the Department of Homeland Security. During war, it is transferred to the Department of Defense under the U.S. Navy.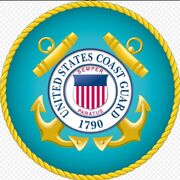 Pre-Apocalypse
Edit
The coast guard had responsibility for coastal defense, enforcing maritime law, intercepting boats suspected to be caring drugs, contrabands, and illegal immigrants, and for preforming search and rescue missions.
Post-Apocalypse
Edit
It can be assumed that the coast guard was involved in some way in the initial stages of the outbreak. However, in the Season 2a opening episode Monster, the coast guard sent out a message stating that it could no longer carry out its search and rescue missions anymore and that they could no longer provide assistance to people on air, sea or land. It is unknown whether this was due to loss of personnel to the infected, loss of personnel through desertion or simply loss of equipment.
It is possible that part of the reason the Coast Guard could no longer aid civilians was due to the loss of equipment. In Season 2a, while aboard The Abigail, the survivors come across a boat that has been sunk by heavy machine gun fire. The damage to the boat suggests .50 caliber rounds - the same caliber used for the mounted machine guns aboard U.S. Coast Guard ships to bring down smuggler boats. Since the Coast Guard stated they were no longer operational, then pirates must have gotten hold of their hardware. It's also possible that the boat was destroyed by the Mexican Military, the Flotilla that was patrolling the border between Mexico and the U.S.
Community content is available under
CC-BY-SA
unless otherwise noted.