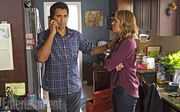 The Clark home is a location in AMC's Fear The Walking Dead. It is located in the old residential district, El Sereno in Los Angeles, California. It is where the Clark family and Travis Manawa live at the start of Season 1. Later, it houses the Salazar family as well as Travis' ex wife and son, until they abandon it and follow the National Guard at the start of Operation Cobalt in order to rescue Nick. It is presumed destroyed when Los Angeles is bombed in accordance with the overall objectives of Operation Cobalt.
The set is built like a house - there are no missing walls to make filming easier.
This means that filming in the Clark home with 9 main cast, 3 soldiers and crew can get a little hectic.
Scenes are choreographed, with each move planned in advance like a dance, to make sure that everyone knows what is happening and will not get hurt.