"
You don't get tired of surviving, you just push on.
"
 
Alicia Clark, also known as Licia within the family, is a major character in the first, second, third, fourth, fifth, and sixth seasons. She is portrayed by Alycia Debnam-Carey.
Alicia is Stephen and Madison's daughter and Nick's sister.
Overview
[
]
Alicia is a driven teenager and daughter of Madison and Steven Clark. Before The Fall, she went to Paul R. Williams High School; her father died when she was a young teen and, like her older brother, she was deeply affected by this loss. Unlike Nick though, she excels in every area of life that he fails in. Alicia planned to go to the University of California at Berkeley and was already in contact by the institution as well as making plans for the future with her boyfriend Matt Sale.
Apocalypse
[
]
Post-Apocalypse
[
]
TBA
TBA
TBA
TBA
TBA
TBA
TBA
TBA
TBA
TBA
TBA
TBA
TBA
TBA
TBA
TBA
TBA
TBA
TBA
TBA
TBA
TBA
TBA
TBA
TBA
TBA
TBA
TBA
TBA
TBA
TBA
TBA
TBA
TBA
TBA
TBA
TBA
TBA
TBA
TBA
TBA
TBA
TBA
TBA
"

I Lose People...

"

[

]
TBA
"

...I Lose Myself

"

[

]
TBA
TBA
TBA
TBA
TBA
TBA
TBA
TBA
TBA
TBA
TBA
TBA
TBA
TBA
Alicia will appear in this season.
Relationships
[
]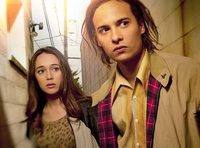 Nick is Alicia's brother and they are described as "two siblings that are very much at odds with each other. They love each other because they are brother and sister, but to a certain extent it's almost like they are each other's worst enemies because one is screwing things up while she's trying to achieve things and get on to college, and the other one is seeing her as this reminder of everything that he can't be."[1] Alicia appears to be emotionally distant when it comes to her brother's drug addiction, though she sincerely cares for her older brother and it pains her to see him in such a fragile state. After they discovered the wreck of Flight 462 and Nick disappeared, Alicia seemed concerned. When he returned covered in blood, she grabs him into a large hug. While they are fighting zombies on the beach Nick is still nowhere to be found. But, right when Alicia needs help the most Nick shows up......... WOW Nick is covered in blood did he get bit by that zombie he was fighting or did he kill the zombie and cover himself in zombie guts, meanwhile they find a girl name Alex and help her out in return she helps the group fight the zombies on the beach. Safe fully they make it off the beach just in time.
It is shown that the two share a close connection and that they care for each other. Playfully bantering and being complimentary towards one another. Alicia cares for him without hesitation when he's ill. For his part Matt sends her away, again without hesitation, when he thinks that sending her away is the best thing for her. Matt is bitten by a infected and later died from the infection. and bites his parents.
Alicia and her mom have a genuinely close and loving relationship. It's strained more so than most teenage daughter and mother relationships mainly over the drama revolving around Nick's drug addiction and Travis moving into their home.
Alicia doesn't appear to have anything against Travis as a person. She resents him being a change in her life and in her relationships with her mother and brother, but she would probably resent any new partner her mother had. In "The Dog"" Alicia is quite anxious when Travis doesn't return and says that it reminds her, in a bad way, of waiting for someone else to return. The unspoken implication is that it reminds her of waiting for her father when he died and didn't return.
Chris is her not-quite-step brother. Alicia seems to initially regard Chris in a similar light to Travis, thanks to the fact that he is a part of the family that's causing great changes in her life. However, it isn't quite on the same level as with Travis. Their first on-screen interaction occurs in "The Dog" when Alicia is running from a walker. Chris helps a panicking Alicia over a fence, but Alicia - in her panic - didn't realize Chris was helping her, and elbows him in the nose, causing it to bleed. The two don't begin to bond until "Cobalt", when they raid the abandoned house of a wealthy family, enjoying their material goods before smashing and tearing the place apart. Romantic undertones can be detected during these moments, especially during one moment when Chris accidentally witnesses Alicia when she was about to change from one expensive dress into another. In "The Good Man", Alicia shares nearly, if not all, of her scenes with Chris. The two end up alone, guarding their car. When soldiers come trying to steal their car, they both get defensive. When one solider makes suggestive remarks and touches Alicia, Chris instantly tries to protect her. His moves ultimate backfire when the soldier knocks him out cold. Alicia and Chris are later seen at the end of the episode hanging out, eating popsicles together.
There was very little change in their relationship throughout Season 2a, until they made landfall in Baja California. While walking through the town of Rosarito, they are attacked by a group of Infected, and Madison is pinned to the ground by one. Chris fails to help, and Alicia sees this. Later, Chris tries to cover up with lies, but Alicia says she will tell, and Chris treatens her. Their relationship is soured after this.
Steven (or Stephen) Clark is Alicia's father. Although Alicia was originally told her father passed away in a car accident, Madison later reveals he took his own life intentionally.
In an October 2020 interview[2] with The Natural Aristocrat, Alycia Debnam-Carey was asked if she would like to see a father/daughter flashback scene. She replied, "Yeah! I've never even thought about doing a flashback like that! But I'm always for showing some of the more revealing aspects of a character, before this whole apocalypse. And I do think it's tragic…"
Appearances
[
]
Season 6
Episode
Appearance Status

The End Is the Beginning

Credit Only

Welcome to the Club"

Absent

Alaska

Credit Only

The Key

Credit Only

Honey

Credit Only

Bury Her Next to Jasper's Leg

Credit Only

Damage From the Inside

Absent

The Door

Appears

Things Left to Do"

Absent

Handle With Care

Mentioned

The Holding

Appears

In Dreams

Credit Only

J.D.

Credit Only
Galleries
[
]
Videos
[
]
Images
[
]
Trivia
[
]
In the script used by Alycia Debnam-Carey when she read for this part, the character's name was "Ashley".[3]
Her signature weapon is a balisong (butterfly knife) that she stole from Jack. The knife is a Bear and Son 113B.
From season four to now her signature weapon is a sharpened gun mount.
Alicia can probably be considered the fan favorite character from Fear The Walking Dead; she is the character that has more fan art and is, arguably, more discussed than the other cast members.
References
[
]
[

]